Basic hunter education classes
We offer basic hunter education classes in classrooms across the islands. We hope to see you in class soon!
Oahu
Class
Days and times
Location
Status
Action




We are happy to offer basic hunter education classes online. It will cover all topics necessary to become a certified Hawaii hunter. Once you complete this course online (at your own pace) and pass the final exam, you will obtain a certificate of completion. Your Hawaii Hunter Education Certificate will be mailed to you within a couple of weeks.
---
Online classes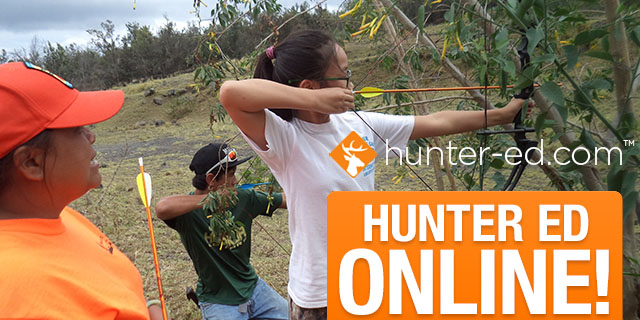 https://www.hunter-ed.com/hawaii/
How does this work?
Take an online class
Pass test
Receive certificate of completion
Wait 1-2 weeks
Receive hunter certification card
---
Who is it for?
Anyone interested in conservation, safety, and the responsible use of Hawaiiʻs natural resources.
Everyone who passes the class will receive a hunting certification card, that they can use to purchase a Hawaii hunting license.
What will I learn?
Outdoor Ethics and Responsibility
Principles of Conservation
Wildlife Management and Identification
Firearms Familiarization and Safety
Muzzleloading Safety
Bowhunting Safety
Hunting Rules and Regulations
Outdoor Survival and First Aid
Game Care
How long does it take?
Each class includes 12 hours of instruction that may be stretched over 2 or 3 days.
Who can take it?
You must be 16 years old to take the class on your own. If you are 10 years old the day the class starts, you may take the class with an adult chaperone.
What should I expect?
Instructors teach with lectures and video. Students are required to take a written exam at the end of the course.
What do I get when I finish the class?
Students who receive a minimum of 75% on the exam will receive a Hunting certification card and number. Your certification does not expire and is recognized in the other forty-nine states, Canadian Provinces, and Mexico.
You can use the certification number to purchase a Hawaii hunting license.
What if the class is full?
Standby students may be accommodated on a first come, first served basis. There is no advanced sign-up for standbys. Standbys should report to the class location on the first day of the class at least 1.5 hours before the class begins.
Master Instructors will determine how many standbys may be accepted, based on the number of pre-registered students that do not show up and the overall classroom capacity. Standbys who are admitted into the class will not need to standby again for subsequent class days.
There is no advanced sign-up for standbys, except for the island of Kauai. Effective immediately, for Hunter Education classes on Kaua'i, all students wishing to register as standbys for classes which have already been filled must call, 1-866-563-4868, to register on a standby list prior to the start date of the class. Read more here: http://dlnr.hawaii.gov/huntered/2016/07/28/nr16-149h/.
What should I bring?
Please remember to bring a valid picture ID to the class.
What if I have special needs?
We offer the basic course exam in a variety of languages, and we offer accommodations to students with special needs. Please let us know of any needs you may have ahead of time, and we will try our best to accommodate you.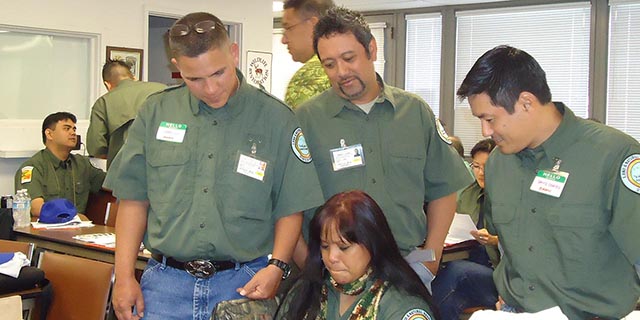 How does this work?