Bowhunter classes
We offer bowhunter classes across the islands. To enroll you will need a Hawaii certification number. We hope to see you in class soon!
There are no upcoming regular classes.
For anyone who has completed the Hawaii Basic Hunter Education class, we are happy to offer online Bowhunting classes. (If you have not completed our basic hunter education class, please enroll in one now.)
You'll be mailed your permanent Hawaii Bowhunter Education Certificate within 3-4 weeks of completing this online class.
---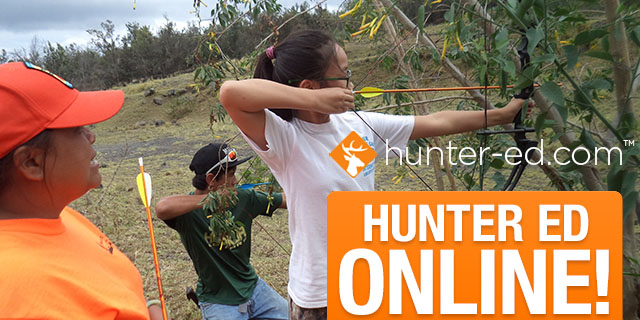 https://www.bowhunter-ed.com/hawaii/
How does this work?
Take an online class
Pass test
Receive bowhunter hunter certification card
Who is it for?
Anyone who has received a Hawaii hunter certification card and is interested in learning more about hunting.
What will I learn?
Class Segments include: Introduction to Bowhunting, Wildlife Conservation, Safe and Responsible Bowhunting, Equipment Selection, Preparing to Bowhunt, Bowhunting Methods, Shot placement and Recovery, Outdoor Preparedness.
How long does it take?
The course includes eight hours of classroom instruction over two nights and a six hour field day.
Who can take it?
All students who have completed their basic Hunter Education Certification. Basic Hunter Education Certification is a prerequisite for the Bowhunter class.
What should I expect?
Students should expect a comprehensive introduction to bowhunting involving classroom lecture, videos, and a field day practice course with actual shooting. Students must pass a written exam for certification.
What do I get when I finish the class?
Bowhunter certification card, which some states require to bowhunt.
What if the class is full?
If the class is full students may consider completing the online bowhunter course (direct to page) offered by bowhunter-ed.com. This certification option does not require completion of a field day and may be completed completely online.
What should I bring?
Students should bring a valid ID to sign in for class sessions. For the field day, students should bring their bows, arrows, camouflage and bowhunting gear to create as realistic of an experience as possible.
What if I have special needs?
Please contact the Hunter Education Program to request assistance for any special needs.